Welcome to
Yume-no-Ki Pension
Yume-no-Ki is a pension near Lake Yamanaka offering griddle-cooked dishes and wine made with seasonal ingredients. We have been featured numerous times on television, in magazines and elsewhere.
Visitors can enjoy views from their guestrooms of Mount Fuji, Japan's tallest mountain, and savor griddle-cooked meat made using "Wine Beef" (beef from cattle fed on grape pomace) accompanied by Yamanashi Prefecture wines carefully selected by the sommelier, who is also the pension owner. Moreover, the entire facility is non-smoking to ensure that each customer enjoys the crisp, clean air of the highlands.
Six Features of Yume-no-Ki
Popular meals: Griddle-cooked dishes for dinner and hot sandwiches for breakfast

Meals are made to please using local ingredients from Yamanashi, an area with a plethora of hidden culinary gems. Enjoy griddle-cooked dishes with all five of your senses at dinner, and wake up to a freshly-cooked hot sandwich for breakfast.

Two rare griddle-cooked main selections: Koshu Wine Beef and Oshino spring-water rainbow trout

Savor Oshino spring-water rainbow trout, raised on snowmelt from Mount Fuji, as well as Koshu Wine Beef, a high-end Yamanashi specialty using meat from cattle raised on grape pomace.

Sommelier Hand-picked Wines from Yamanashi Prefecture

Our sommelier, who is also the facility's owner, visits wineries throughout the famous wine production region of Yamanashi Prefecture and carefully selects wines that customers can truly enjoy.

Mount Fuji views from all rooms (with balconies), Serta mattresses, and convenient pillow-side electrical outlets

Each room, equipped with a balcony, offers a view of majestic Mount Fuji. Furthermore, all rooms are design for comfort, equipped with Serta mattresses (which boast the leading US market share) and convenient pillow-side electrical and USB charging outlets.

Fully non-smoking facility for all guests (no designated smoking area available)

We operate a fully non-smoking facility; guests who smoke are asked to refrain from staying here. We are sorry if this causes any inconvenience, but it is important for our facility atmosphere.

Fair prices and special bonus gifts

Griddle-cooked dishes, which are normally quite expensive, are included in the lodging price here at Yume-no-Ki. Female lodgers will receive a stylish set of oil blotting paper or a bookmark—free of charge!
Meals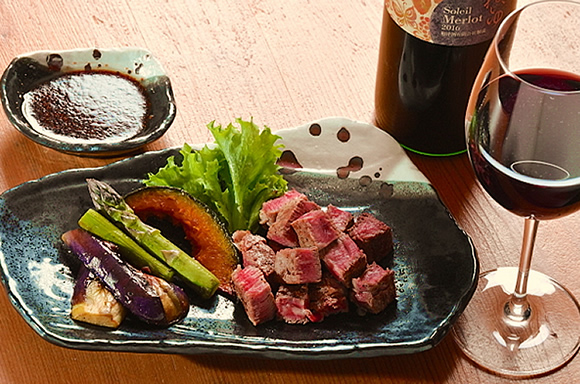 Koshu Wine Beef
From cattle raised to provide high-quality red meat and rich, sweet flavor
Because cattle is raised on polyphenol-rich grape pomace feed, Koshu Wine Beef undergoes less oxidation than beef from cattle raised on standard feed, resulting in more tender, redder meat. This also reduces unpleasant beef smells, making for beef that is easier to eat rare.
Griddle-cooked Rainbow Trout
Rainbow trout à la meunière, raised in the famous spring waters of Oshino Village at the foot of Mount Fuji
Original-recipe Hot Sandwich for Breakfast
Start the day off with a freshly cooked hot sandwich
Wine Menu with Specially Selected Yamanashi Wines
Guestrooms and Facilities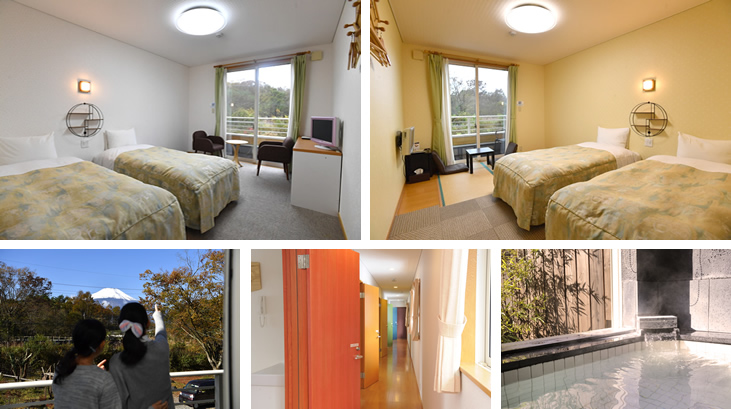 Meticulously Designed
Guestrooms
Wake up pull back the curtains first thing in the morning for a view of Japan's highest peak, Mount Fuji.
All guestrooms are equipped with balconies so visitors can enjoy the grandeur of Mount Fuji to the fullest. Furthermore, all rooms are located on the second floor, meaning noise from lodging guests in rooms above is not an issue.
■All rooms have balconies, toilets, washstands, heating and air conditioning, LCD televisions, refrigerators, hair dryers, bath towels, hand towels, and toothbrushes (please bring your own nightclothes)
■Rooms are equipped with free Wi-Fi and pillow-side electrical outlets
■The entire lodging facility is a non-smoking area. All guests are asked to refrain from smoking.
Lake Yamanaka Area Sightseeing
The Mount Fuji and Lake Yamanaka area, officially registered as a UNESCO World Heritage Site, is abound in natural splendor. It's the perfect place to forget the hustle and bustle of the city and spend some time just relaxing. The following are some of the area's sightseeing spots.
Lake Yamanaka Flower Park

Yamanakako Benifuji no Yu(in Lake Yamanaka Hot Springs)

Ishiwari no Yu(in Lake Yamanaka's Hirano Hot Springs)

Lake Yamanaka Cycling Road

Yamanaka no Kaba amphibious bus

Lake Yamanaka Viewpoint

Yamanakako Communication Plaza KIRARA

Oshino Hakkai
Other Sightseeing Spots
Gotemba Premium Outlets
Fujiyoshida Sengen Shrine
Mount Fuji Fifth Station
Fuji Speedway
Oshino Shinobi no Sato (ninja village)
Fuji Safari Park
Fuji-Q Highland (amusement park)
Griddle-cooked Dishes and Wine
Yume-no-Ki Pension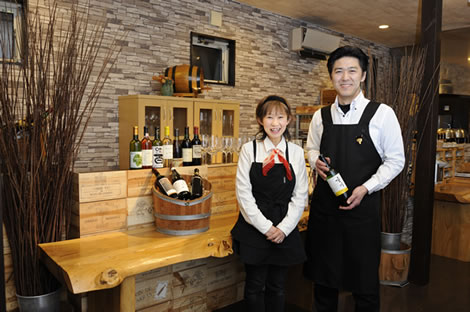 Located in a quiet area just inland from the shore of Lake Yamanaka, Yume-no-Ki sits on a property measuring about 700 tsubo (2,314 square meters / 24,908 square feet) in size. It was opened in 2010 by a married couple with experience in hotel work, and boasts views of Mount Fuji from every guestroom.
Although the surrounding area offers few dining options for visitors, Yume-no-Ki has you covered with griddle-cooked dishes made using local, seasonal ingredients, complemented by Yamanashi Prefecture wines. Moreover, facility offers a wonderfully private setting.
The property was once home to about 100 Japanese larch trees which were felled to construct the pension facility. The name Yume-no-Ki, which means "tree of dreams," was chosen in reflection of the owners' efforts to establish deep roots in the area and achieve growth reaching up to the sky just as the trees have, while also giving thanks to the trees themselves.
Yume-no-Ki was designed to provide comfortable, inviting spaces for lodging guests, and to convey all the charms that Yamanashi Prefecture has to offer. We look forward to your visit!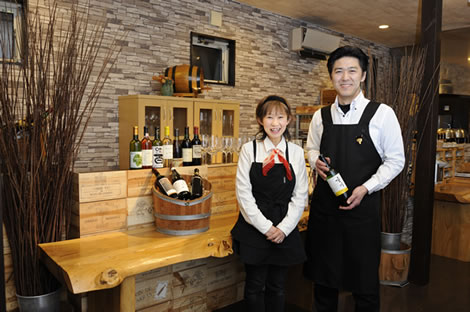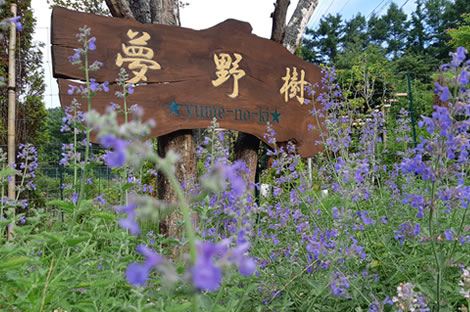 Yume-no-Ki Pension
548-47
Hirano, Yamanakako-mura, Minamitsuru-gun, Yamanashi Prefecture 401-0502
tel:0555-65-7255
By Car
■From Tokyo

■From Nagoya

By Bus
■From Tokyo

By Train
■Closest Stations